Morning all,
A really big component to looking great and feeling great

and looking sexy and feeling sexy is have little to no stress in your life…and more importantly, in your body and muscles as well.
Stress is a really big problem in today's society for today's wise people. It can make you tense, your muscles rigid and cause all sorts of aches and pains. I have news for you – "Achy" does not "Sexy" make!
Nor does it make "Wise." So often, we're so consumed with getting everything done yesterday that we neglect one of the most important components of ourselves – our bodies and relaxation.
One of the best things you can do for yourself is give yourself permission to decompress and relax. But to really do so, you need an extraordinarily comfortable chair! We here at the Ling family are quite lucky – 8 years ago, we invested in an Ekorness stressless chair, and haven't looked back since.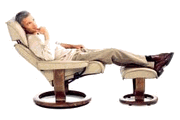 The Ekornes stressless chair is quite pricey, make no mistake about that…but wow, how it supports your back and lumbar spine and all those areas that crave kind gentle touches!! Quite frankly, I have no idea how they managed to engineer such quality into such a dynamic piece of furniture, but I can tell you this – it makes any resting time a period of utter bliss. My husband uses it for napping occasionally, and I use it just to simply rest and relax. 10 minutes (preferably with hot coffee! and soothing music) can really get your mind and body back to where you want them to be.
From their website:
…Offering patented features you won't find on other recliners, from the glide system that follows your slightest movements, to the Plus™ system for correct neck and lumbar support in every position, Stressless® is still known as the ultimate recliner….

The Plus system automatically provides correct support for your head and lumbar area in all positions. The lower back support adjusts in parallel with the headrest, so you can enjoy perfect support, whether you are sitting in an upright or reclining position. The headrest adjusts automatically, so you can read and watch TV even in a reclined position. You can also adjust the headrest with a simple hand movement to lie flat and relax. ….MORE….
And I can certainly vouch for that!
You have to go thru distributors to get official Ekorness Stressless recliners – you can find them here. However, you might also find them listed on Craigslist, as well as eBay.
If you're seriously looking for the top of the line stress-less recliner, look no further – it lasts and lasts (our is 8 years old) and works wonders for your body.
Enjoy,
Barbara
ps – here's some Ekornes discounts on eBay: