Morning,
Are you like me? Tied to a computer for hours and hours a day?
If so, you know how difficult it is to actually force yourself to stop and stretch for even 5 minutes, let alone get some real exercise in. Right?
I'm happy to announce I've found a free alarm clock you can download straight to your computer, that allows you to set an hourly alarm, 1/2 hour alarm, etc.etc.etc. I've been using it now for 2 weeks and it really helps get me up and away from my work!
It's called WorldTime6 and is downloadable from here. It runs on the PC platform.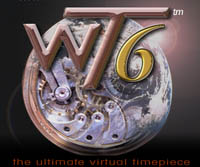 If you try it out, drop me a line and let me know what you think!
Enjoy,
Barbara