Howdy all,
My gosh, it's things like this that make being a mom all worth while.
Back when I was in college, I was the founder and president of the Rutgers University Math Club (loved the subject, couldn't do it to save myself, but loved it nontheless…which is one reason why all of my kids are superior in it, I made certain they learned to love math at an early age). During my senior year, I decided to have a fund-raiser by designing and selling the Rutgers University Math Club t-shirts!
I vividly remember sitting outside Hill Center and drawing the building. Then I went home, added all the embellishments, and brought the finished product to a silk-screener close by the campus. To make a long story short, it turned out quite wonderful and when I graduated from college, I made certain to bring some back with me.
Fast forward 21 years. Last night, one of my kids brought out her sleeping mattress from my closet to sleep on the floor; somehow that hooked on one of the t-shirts. This morning as I was returning the mattress, I found that t-shirt on the floor, looked at it and told my eldest, hey look, Rutgers Math! And she said, math? I love math! Let me see!
She was absolutely entranced by the t-shirt, and more so that her mom was the artist. I found a medium size one for her, and told her the whole story of how it was made. Then she noticed how I signed it – "IKMP '86" and asked what that was all about. And I told her, kid, when I was a senior, I made a promise to myself that I'd make a mark and nobody would ever forget me. That stands for:
I Kept My Promise, Class of '86
Oh, the look in my daughter's eyes – it was a keeping moment.
You know, back when I was at college, I never really thought of how my children would view my achievements. What an unbelievable feeling it was to see my kid appreciate my work. I was a child back then, I'm a mom right now….and yet it all became bridged during that moment.
I thank the universe for that experience, I shall never forget it.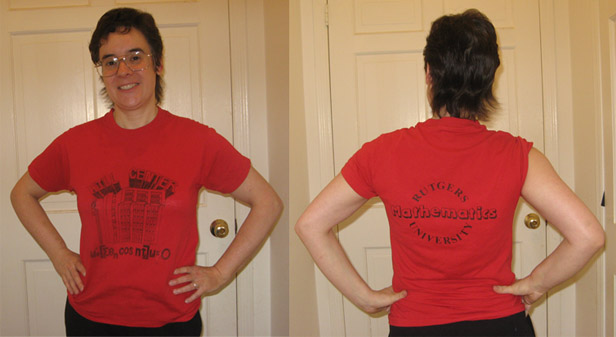 Enjoy,
Barbara
ps – Some nice Rutgers goodies: